The birds of the sky nest by the waters;




    

they sing among the branches.
Psalm 104:12
I look forward to hearing the birds sing when I wake up and just before the sun sets in the evenings. Blue Jays sing as they fly overhead, Kiskadees joining in with the sweetest of melodies and parrots making a racket as they head home from their day's adventures. I love these moments in nature.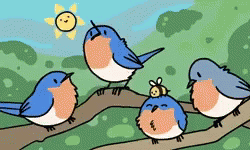 Today, I am thankful for the sweet-sounding birds. They're always in harmony with nature.
What's your favorite bird?
***GIFs/Images that don't belong to LPM are via Google Search (Right-click for original source)