What then is my reward? That, when I preach the gospel, I may offer the gospel without charge,
so as not to make full use of my right in the gospel.
1 Corinthians 9:18
In April, the router box started to give trouble. We'll put it on to access the internet and 2-3 hours later, it goes down, and we have to wait half an hour for it to come back up and then it goes down an hour later again and… you get it; it's a repetitive process. We called the company, and we received wonderful service, but unfortunately, no boxes were available to replace the one that we have.
To make a lengthy story short, I did not want to pay for a service that I had hardly access to, and on Friday, when it was time to pay April's bill, I was told that it was free and I immediately blessed and thank God.
I am thankful that God continues to come through for me in different ways and circumstances. I really have no words to describe His goodness. 💙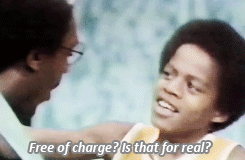 What are you grateful for today?
***GIFs/Images that don't belong to LPM are via Google Search (Right-click for original source)