Since we have these promises, beloved, let us cleanse ourselves from every defilement of body and spirit,


bringing holiness to completion in the fear of God.
2 Corinthians 7:1
Just popping in to say that I'm thankful for the broom. It knows every corner of the house and patiently gets rid of dirt and even cobwebs. I've even learned a few valuable lessons from the broom: it cannot sweep by itself. And just as a broom needs someone to actually pick it up and put it to use, we cannot do anything of our own; we must rely on God. Also, we have to be willing to allow the Lord to use us to carry out His work.
Today, I am very thankful for what a cleaning device I have in the broom and the lessons I've learned from it!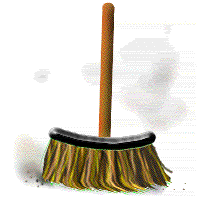 What are you thankful for today?
***GIFs/Images that don't belong to LPM are via Google Search (Right-click for original source)